Our Tourist Rental Package is designed for riders who don't live and work in Vietnam, or who are looking to travel around the country.
The price for Honda Wave Blade Tourist Rental is $10/day. If you rent for 6 days we offer a 7th day free, which comes to $60/week.
We require a deposit of either $500 or your passport. Your passport must be valid, and contain the visa with which you entered Vietnam.
There is no mileage limit for Tourist Rentals.
If you experience any problems with your bike during the rental period, you must call us immediately so we can help you. While we trust our customers, we don't necessarily trust local roadside mechanics.
We service our bikes before and after each rental, but if you're renting for a long time or riding a lot please let us know when you hit 1,000-1,500km so we can get your bike serviced. You can take it to one of our shops or, alternatively, we'll recommend a mechanic and reimburse you the cost when you return your bike to us.
Please note that motorbike insurance is almost impossible to come by in Vietnam. This means that, while we will cover the cost of a breakdown, you will be liable for the cost of repairs in the case of a crash, or the cost of a replacement bike in the case of yours being lost, stolen or damaged beyond repair.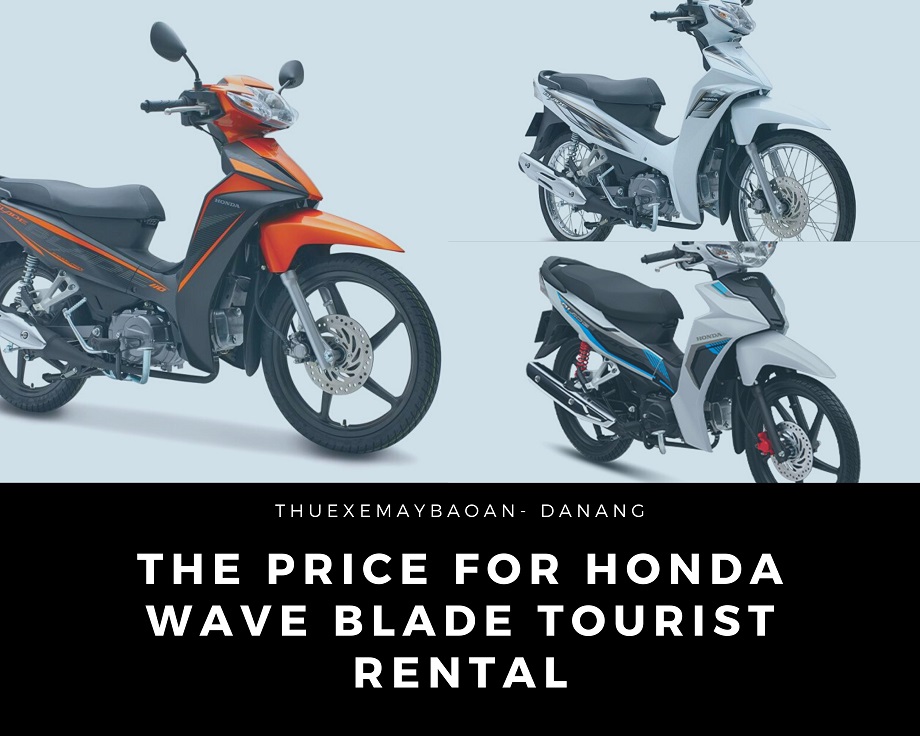 The Honda Wave Blade is equipped with a better engine, front disc brakes and improved suspension.
Looking for Expat Rental instead?
An upgraded, more capable version of the Honda Wave Alpha, the Honda Wave Blade is equipped with a better engine, front disc brakes and improved suspension.
Again, this is a bike that's easy and cheap to repair and that will take you across the country almost as well as it'll take you around the city. It's lightweight and easy to ride, too, although for heavier riders, or those carrying a lot of luggage or a pillion, we'd recommend considering the slightly more powerful Honda Future. Also, since the Blade is a scooter, if you're looking to cover long distances or go off-road something like the larger and more comfortable like the Honda XR 150 dual-sport might be a better option.
Specifications Honda Wave Alpha's :
| | |
| --- | --- |
| Displacement | 109.1 cc |
| Starter | electric/kick |
| Dry Weight | 98 kg |
| Seat Height | 769 mm |
| Transmission | semi-automatic (4 speed) |
| Fuel Capacity | 3.7 litres |
| Fuel System | carburettor |
| Front Brake | disc |
| Rear Brake | drum |
*Please bear in mind that, because we stock a few different models of each bike, your model's specifications may differ slightly from those shown above.
see more  : How much does it cost to rent a motorbike in Danang ? motorbike rental da nang
How to drive a semi- automatic scooter for a beginner ?
Zalo /SMS : ( 0886 )512 999
EmaiLl : viethoaivtn3@gmail.com